A case management system is such an integral part of any substantial firm of Patent and Trade Mark Attorneys that the decision to change cannot be taken lightly.
Choosing the correct management system is of vital importance to your practice. A legacy system may no longer meet the needs of your dynamic practice and a new approach may have to be taken.
Equinox is the case management system of choice and the Equinox team are skilled at implementing it in larger practices. We don't underestimate the difficulty of making the right decision and seeing it through to implementation. We make process as painless as possible.
Here are the steps along the process:

01. Initial Contact and Consultation
You are likely to contact us having come across Equinox in consultation with other patent attorney firms. You may want to contact us directly by phone or email to arrange an initial meeting, to talk through the benefits of Equinox and to consider how the changeover might be managed, as well as the costs involved.
Or you may prefer to be given access to a free trial first to get an idea of the scope of Equinox. The simplest way to do so is to request a free trial.
To contact us please use these details:
phone   +44 (0) 113 274 7309 and ask for Tom Parish or Justin Gallagher
email   enquiries@workanyware.co.uk
We can give access to Equinox for evaluation purposes to you and as many of your attorneys or other key employees as you require.
A initial meeting with your firm will be set up and will involve one of our directors and an implementation manager which we allocate to your firm. This person will be the single point of contact for you and will be experienced in IP, in Equinox and in implementation strategies. After the meeting the implementation manager will discuss with you how we can meet all of your needs - both now and for the future.

If you wish to go further we will set up a schedule of meetings at which we meet your senior team and any other key staff involved in the Equinox project.
We will study your needs, policies, practices and procedures and see how Equinox can be customised to meet them. Important discussions will also take place about the data you have and how it can be converted and uploaded to Equinox.
This investigation will result in an initial scoping report. This presents a clear picture of what is needed, the steps which will have to be taken, and how much time and cost will be involved.

At this point you will make your strategic decision about case management. We at Equinox will be there to ensure that you have all the information that you require to make the right decision.
If you decide in favour of Equinox, the first substantive step is to agree a specification of what will be done, and agree an outline plan to achieve it. This initial specification will result partly from the study and discussions conducted to date, and is produced so that there are no surprises later. The plan provides a solid framework for the process of bringing Equinox though to successful day-to-day operation in your practice.
We will ask you to formally approve the plan and specification before the real work commences. The plan may, or course, have grey areas - we are flexible and accommodating to really get things working for you.

04. Project Planning and Implementation
The specification and plan are the basis for more detailed plans. It is important that you set up an internal implementation team. We can help you develop the planning protocols to allow the team to operate successfully. This team will drive the project forward. It is also very important that senior management endorses the process and gives their full and continuing support to the implementation project.
The first detailed stage of implementation is to customise Equinox to meet the data and processing needs of your practice. Equinox can allow you to adopt modified working practices. We offer help in devising new internal procedures.
The actual changeover date is agreed some months in advance to ensure that the data conversion is effectively managed and that all potential users are trained in the use of Equinox. In the intervening period it can be very effective to clean-up the data on the legacy system - we can advise on this.
We start the take-on process at the end of the last working day of the target week, and have everything ready to start productive work at the beginning of the following week.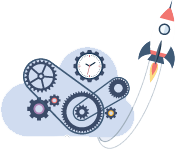 We pride ourselves on the personal support we offer. We are always available to answer queries, to give help and receive suggestions. The support team is the same as the team developing Equinox, they really know what they are doing and can provide timely help.
Equinox is constantly being improved, often from suggestions received from IP professionals. These modifications and updates are automatically available to you - you need do nothing to receive them and all costs are included in the subscription cost.